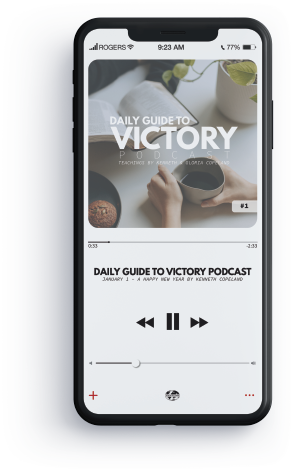 Daily Guide to Victory Podcast has readings from Kenneth and Gloria Copeland's best-selling devotional, From Faith to Faith—A Daily Guide to Victory. You'll get a word of encouragement… a word of inspiration… a word of faith every day of the year.
Daily Guide to Victory Podcast is also available on YouTube. Now you can listen and follow along at the same time. 
Need Prayer? We're Here for You
No matter where you live in the world, KCM has an office with staff members who understand your needs and are ready to minister to you in a personal way. Each office is staffed with local believers who know the best way to reach those in their regions.
Please select a country/region below to be redirected to prayer/contact page.
About Kenneth & Gloria Copeland
Kenneth and Gloria Copeland understand just how life-changing the message of faith is. They started out just like any of us—struggling with continual lack, debt, sickness and discouragement. Then they decided to trust God and base their lives on His Word. If a situation in their lives didn't line up with what they read in the Bible, they changed what they did. Every time.
That decision made all the difference. They soon began to experience THE BLESSING—joy, peace, freedom, health and love—in every area of their lives. And as they witnessed their lives changing, they were eager to tell others.
Written by Kenneth and Gloria Copeland, From Faith to Faith daily devotional deals with real living. From their own experience, the Copelands know the fight of faith isn't won overnight. It's won little by little in the practical territory of everyday life.